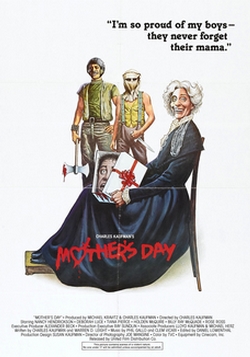 After a bank robbery gone wrong, three brothers head for home... only to discover that their mother lost the house in a foreclosure. The new owners and their guests, gathered for an ill-timed get-together, become the brothers' unwitting hostages. Their mother and sister arrive, and it soon becomes obvious that Mother will do absolutely anything to protect her children. In one terrifying evening, Mother brilliantly takes control of the situation and masterminds her sons' escape. Sides will be taken, secrets revealed, and sins punished as the hostages struggle to make it through the night.
Mother's Day X
Edit
Just basically a wiki for a fan script. 'Tis all.
Latest activity
Edit
Ad blocker interference detected!
Wikia is a free-to-use site that makes money from advertising. We have a modified experience for viewers using ad blockers

Wikia is not accessible if you've made further modifications. Remove the custom ad blocker rule(s) and the page will load as expected.